Maranacook Lake – Beautiful sunsets in Winthrop and Readfield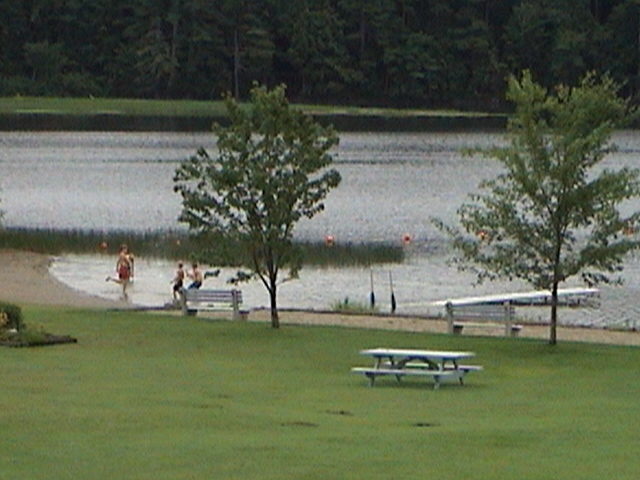 Maranacook Lake is one of Maine's finest bodies of water located in the Belgrade Lakes Region. Stretching through Readfield and Winthrop, you will find Maranacook Lake in Kennebec County. Maranacook Lake is situated in the central southern area of Maine, approximately 10 miles west of the capital city of Augusta.
Maranacook Lake covers 1,673 acres with a maximum depth of 118 feet and mean depth of 30 feet. Having a very irregular shape, Maranacook Lake contains two basins that have very little in common. Both basins have public landings and both are heavily developed with a mix of year round residence, seasonal camps, cabins and vacation rentals.
The Northern Basin of Maranacook Lake will attract you with its 700 acres in surface area and very irregular shoreline. The Northern Basin is located almost entirely in the town of Readfield. The Northern Basin is significantly more shallow then the Southern Basin, which helps it maintain homothermous quality, meaning the water temperature at the surface of the lake is nearly the same as the deepest points of the basin. The Northern Basin's maximum depth is 39 feet.
The Southern Basin of Maranacook Lake will attract you with its 1,000 acres in surface area and sandy beach on the southeastern shore. The Southern Basin is located mostly in Winthrop and will attract you to it's popular Norcross Point. Norcross point is a great place for your local get togethers, meeting up with friends or family for local events, and attending concerts.
If you are a fisherman, Maranacook Lake will offer you a variety of fishing opportunities depending on what basin you are fishing in. The Northern Basin favors smallmouth and largemouth bass, chain pickerel, white perch, and yellow perch due to its warm water environment. The Southern Basin will attract the anglers looking for more of the coldwater fish species. The Southern Basin is most commonly known for its brown trout. Yearly growth has been reported thanks to the help of the fishery management. They strive to provide natural growth of the brown trout with plantings of fall yearlings. Along with these species, lake trout, bullhead, rainbow smelt, and more have been found by anglers coming to this wonderful lake.
The Southern Basin of Maranacook Lake has water qualities slightly above the average as it is monitored by volunteers for the Maine Volunteer Lake Monitoring Program. The Maranacook Lake Association has a mission to "protect and improve water quality."
Come check out Maranacook Lake for yourself! It is well liked by others for it's great fishing and phenomenal living.