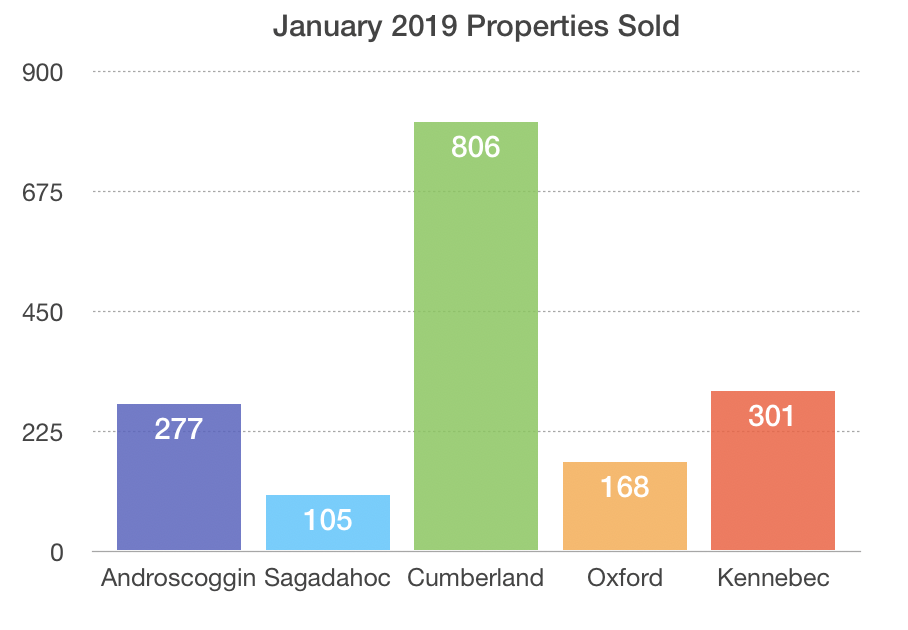 The amount of sales in Androscoggin county is slightly up in January 2019 from January 2018 from 265 units sold to 277 units sold. Values in Androscoggin county increased by 9.93% with median sales price in 2018 being $150,000 increasing to $164,900 in 2019.
The amount of sales in Sagadahoc county is also slightly up in January 2019 from a year prior from 98 units sold to 105. Median prices increased also from $198,950 to $229,500 showing an increase in median sales price by 15.36%.
In Cumberland county, the number of properties sold decreased from 912 units sold to 806 by a percentage of -11.62% from January to the previous January. Median prices though were still very slightly up by 3.48% from $289,900 to $300,000.
Oxford County also decreased in the number of sales from 200 in January 2018 to only 168 in January of 2019. Values also very minimally went down in the year from a median sales price of $147,750 in 208 to $145,000 in 2019.
Lastly, Kennebec County stayed exactly the same when comparing January 2018 to January 2019 with 301 units sold in both months. The median sales price increased by 13.45% though going from a median sales price in $145,000 to an increase of $164,500 in 2019.
Contact us today to show you where values have gone in the town you live in and help get you the best price for your home! Our agents are ready to work hard for you to get your home sold!
Source: Maine Real Estate Information System, Inc. (d/b/a Maine Listings.